Frequently promote a number of lithium battery-related investments and fixed increases! It is also planned to jointly invest 7 billion yuan in the construction of 10GWhPACK and 10GWh lithium battery cell production capacity projects. The lithium battery demon stocks of that year, more than a year after the lithium battery queen took over, can they stage the rebirth of Nirvana?
Risk reminder: Therefore, I have written many articles related to lithium battery analysis. Generally speaking, the registration system is good for the leaders of various industries. From a stable perspective, the industry leaders such as Ningde Times and BYD are generally more stable. This article mainly shares some in-depth stories in the lithium battery sector for your research and reference only.
Insert the data shared by friends after the market today. Lithium hexafluorophosphate is going crazy! Today's rise is the salt lake lithium concept stocks. The overall second- and third-tier lithium batteries are active. Of course, there are also top-tier leaders who have raised their daily limits due to mergers and acquisitions. As for the overall lithium battery industry, I have sorted out a lot recently, and will continue to sort it out. You know, the hot spots are more sustainable under the registration system.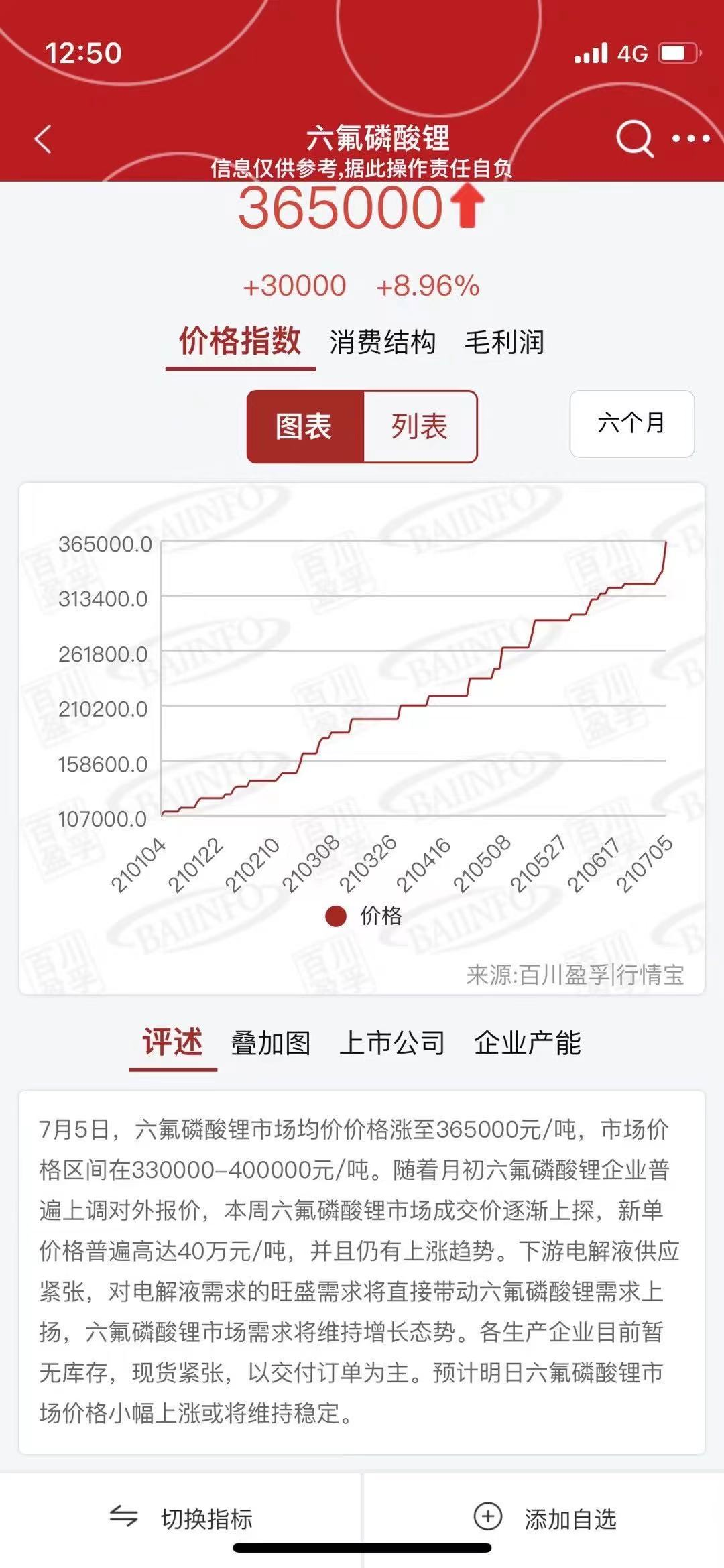 Aspect 1: The actual controller promises that the net profit will be less than 300 million yuan within 3 years and will make up in cash
1. Changde ZTE's commitment
From 2020 to 2022, the net profit after non-deduction will be no less than 300 million yuan, otherwise it will need to be made up in cash. This is an announcement issued by Jenrui Woneng on December 30, 2019. Said: The company's reorganization plan has been approved by the court, which means that Jianrui Woneng will officially enter the bankruptcy reorganization process. At the same time, Changde Zhongxing Investment Management Center (Limited Partnership) (hereinafter referred to as "Changde Zhongxing") confirmed that it will become the largest shareholder after the reorganization of Jianrui Woneng.
2. The story behind
Baolixin is now a listed company on the Growth Enterprise Market. Formerly known as Jianrui Woneng, it was previously merged and reorganized by Jianrui Firefighting and changed its name to Jianrui Woneng. Later, due to bankruptcy and reorganization, it was changed to the current Baolixin.
Established in 2005, the main fire equipment, the founder Guo Hongbao. It went public in 2010, with revenue of just over 100 million yuan and a profit of 21 million yuan. Because of the limited development and growth of the fire protection industry, it has begun to enter the cycle of mergers and acquisitions and reorganization.
In 2013, it began to plan to acquire Hubei company Daming Technology. By 2015, it was successfully consolidated, and the profit that year rebounded to more than 30 million yuan. After tasting the sweetness, they started further mergers and acquisitions and became addicted to leverage.
In 2016, Jianrui Firefighting staged a snake-tuning elephant, acquired Li Yao Holdings' Shenzhen Waterma at a valuation of 5.2 billion, transforming new energy lithium batteries, and then renamed "Jianrui Wo Neng", the profit surged to 430 million yuan that year . The stock price naturally went crazy! The market value was once close to 30 billion yuan, becoming the first stock on the Growth Enterprise Market.
Of course, luck is running out… the direction is right, but the leverage is too big and luck is running out! The frenzy of expansion ran into a huge policy change. Because of subsidies, the industry is called fraudulent compensation for the purpose of frantically expanding. Later, the policy changed and the subsidy requirements were upgraded. The policy requires that "new energy vehicles purchased by non-private users must have a cumulative mileage of more than 30,000 kilometers to receive state subsidies" and implement "settlement in the following year". Suddenly broke the chain of repayment funds of Jianrui Woneng. The company has entered a bankruptcy reorganization cycle!
3. Enter bankruptcy reorganization
Changde ZTE will obtain the dominant power of listed companies. Reorganization method: 1: Changde Zhongxing (etc.) acquired the 1.734 billion shares transferred from the capital reserve of Jianrui Woneng for 100 million yuan. 2: Acquired 610 million yuan in debt assets of the company. 3: A total of 710 million yuan was provided to Jianruiwo Energy.
Restructuring expectations: 1: We still adhere to the main business of lithium batteries, and regard the existing production capacity of Jinrui Woneng as an "important layout." 2: Restore the ability to continue operations for listed companies. 3: Recognize that within 3 years (2020 to 2022), the non-net profit deducted will not be less than 300 million yuan. 4: If the profit target is not achieved, Changde ZTE will make up with cash.
Aspect 2: Lithium battery queen Gao Baoqing
Gao Baoqing, the queen of lithium batteries, was not blocked by someone else, but by me! Because from her experience, I think it is worth and worthy of this title!
1. Public information: Gao Baoqing (now Chairman of Baolixin)
Ms. Gao Baoqing, born in December 1956, Chinese nationality, no permanent residency abroad, bachelor degree. He successively served as general manager of Lanzhou Bailu Trading Co., Ltd., general manager of Hunan Lanbo Chemical Co., Ltd., general manager of Hunan Zhongli New Material Co., Ltd., and vice chairman of Hunan Zhongli New Material Co., Ltd. He is currently the vice chairman and general manager of Hunan Zhongli New Materials Co., Ltd. and general manager of Hunan Guorou Technology Co., Ltd.